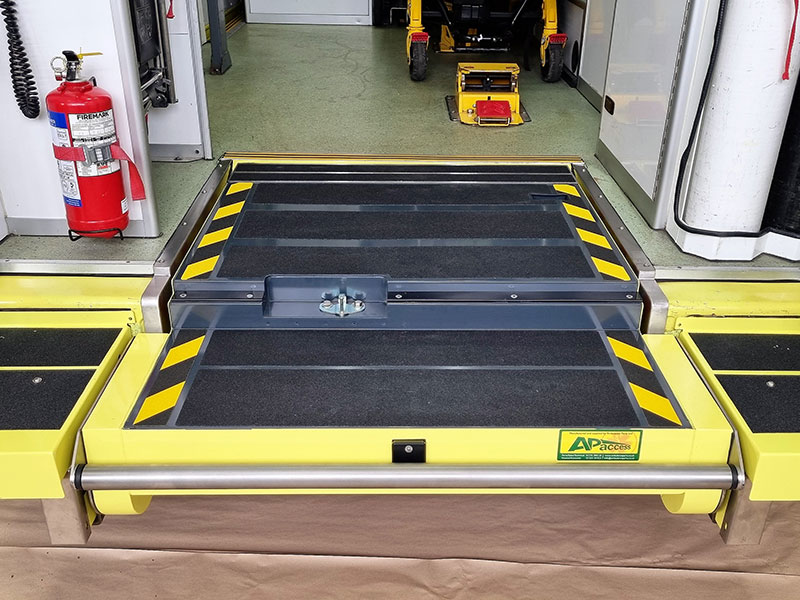 Over the past five years Ambulance Parts Ltd has responded to NHS Trust requests for help, culminating in the re-engineered AP Access 100 wedge-shaped ramp.
The drivers behind the AP Access 100 wedge-shaped ramp project were:
To provide strong cost effective solutions to the increasing emergency vehicle down time caused by weaknesses in the original "Lateral" design and supply chain
To provide a consistent, reliable supply of new ramps and spares for existing Lateral Ramp-equipped front- line and PTS Ambulance fleets working in the UK today
To redesign the access ramp and drive line by the introduction of high quality components and materials in order to provide long service life, ease of retrospective fitment with minimal modification and down-time for the existing vehicle
To develop the access ramp for new build vehicles to give a robust, user-friendly, cost-efficient product in tune with today's demanding front-line ambulance requirements
All the above have been achieved!
AP Access 100 Drive-Gear Unit
AP Access 100 Specification:
Upgraded IP 67 100nm electric motor
IP 55 gearbox
Heavy Duty drive chain
Stainless steel drive gears
Heavy duty spline drives
Stainless steel, low maintenance bearings
Stainless steel side plates
Nudge bar compatible
Vehicle-compatible wiring
Free-wheel facility during vehicle power loss
Clutch-less electronic anti-trap motor shut off, providing protection against crush and pinch injuries. Stops in time, every time
We currently supply North West Ambulance Service, Welsh Ambulance, St John's Ambulance, The British Red Cross and Falck UK to name but a few, plus many other independent and charitable Ambulance Services and Ambulance vehicle providers.